Beef Skewers with Roasted Tomato and Pomegranate Sauce and Dukkah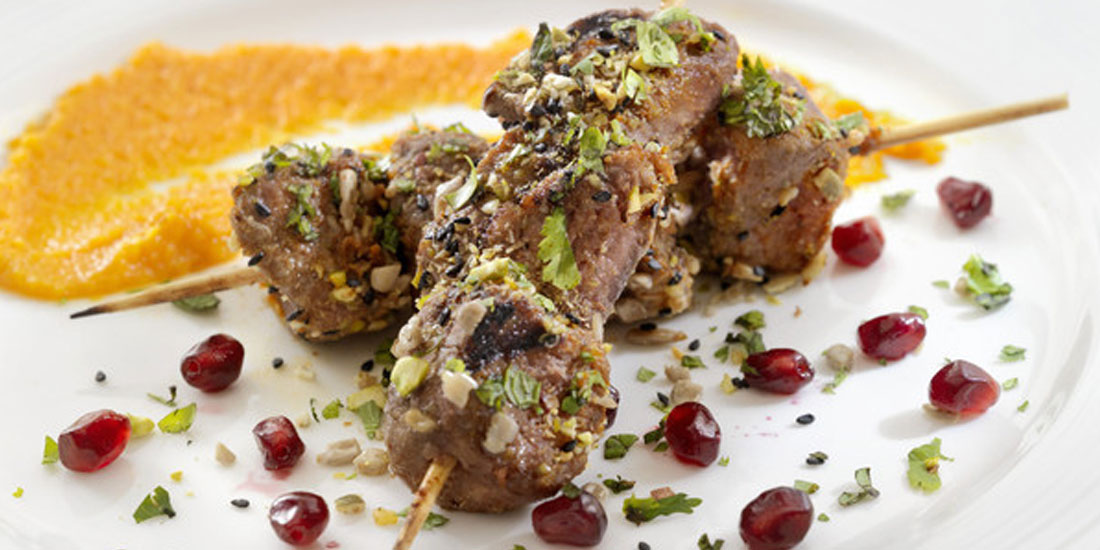 A charred tomato and pomegranate barbecue sauce is the perfect combination of sweet and slightly spicy and slightly smoky. It is brushed over the cooked beef skewers to serve and sprinkle with Dukkah to garnish. Dukkah is an Egyptian condiment consisting of a mixture of herbs, nuts and spices. Use any leftover sauce to serve with lots of other dishes: scrambled eggs, a cheese tray or even grilled cheese sandwiches. Use leftover dukkah to garnish any appetizer plate or sprinkle over yogurt, cottage cheese or a salad of mixed greens. Look for pomegranate molasses in the international section of your local grocery store.
Serves 4
Prep Time 45 minutes
Cook Time 45 minutes
Recipe Courtesy of Canada Beef
Ingredients
Roasted Tomato & Pomegranate Sauce
8 Roma tomatoes, halved lengthwise, seeded (about 1 lb/16 oz)
3 tbsp extra virgin olive oil
1/2 tsp EACH salt and freshly ground pepper
HALF onion, minced
2 tsp minced peeled fresh gingerroot
6 cloves garlic, minced
1 tsp EACH ground coriander and paprika
1 jalapeno, seeded and minced
2 tbsp apple cider vinegar
1/2 cup pomegranate molasses
1/4 cup maple syrup
Beef with Dukkah
500 g Beef Top Sirloin Grilling Steak, 1-inch thick, cut into strips
1 cup packed fresh parsley leaves
1/4 cup shelled pistachios
2 tbsp EACH sesame seeds and pumpkin seeds
1 tbsp sunflower seeds
1 tsp EACH fennel seeds, ground cumin and dried thyme leaves
Directions
SAUCE
On a parchment-lined rimmed baking sheet, toss tomatoes with half of oil, salt and pepper. Arrange cut side up. Roast in 425°F (220°C) oven, stirring once, until softened and charred, about 25 minutes. Remove and set aside. Meanwhile, in saucepan, heat remaining oil over medium-high heat, add onion, ginger, garlic, coriander, paprika and jalapeno. Cook, stirring until onion is softened, about 4 minutes. Transfer mixture to food processor. Add tomatoes and vinegar. Pulse until blended, about 2 minutes. Transfer mixture back to saucepan. Stir in pomegranate molasses and maple syrup. Bring to boil; reduce heat and simmer until thickened, about 7 minutes. (Make-ahead: Cover and refrigerate for up to 1 week.)
BEEF STRIPS AND DUKKAH
In food processor, combine parsley leaves, pistachios, sesame seeds, pumpkin seeds, sunflower seeds, fennel seeds, cumin and thyme. Pulse to combine. Place in zipper-type bag. (Make-ahead: refrigerate for up to 1 month.) Thread beef strips onto 12 skewers. Broil or grill until pink in the center, about 4 minutes per side. To serve: brush with Sauce and sprinkle with dukkah. Serve remaining sauce on the side for dipping.
1 lb (500 g) of steak makes about 20 skewers. You can also cut steak into kabob cubes if desired.
Difficulty: Expert
Occasion: Entertaining, Romantic