Jamaican Jerk Beef Sliders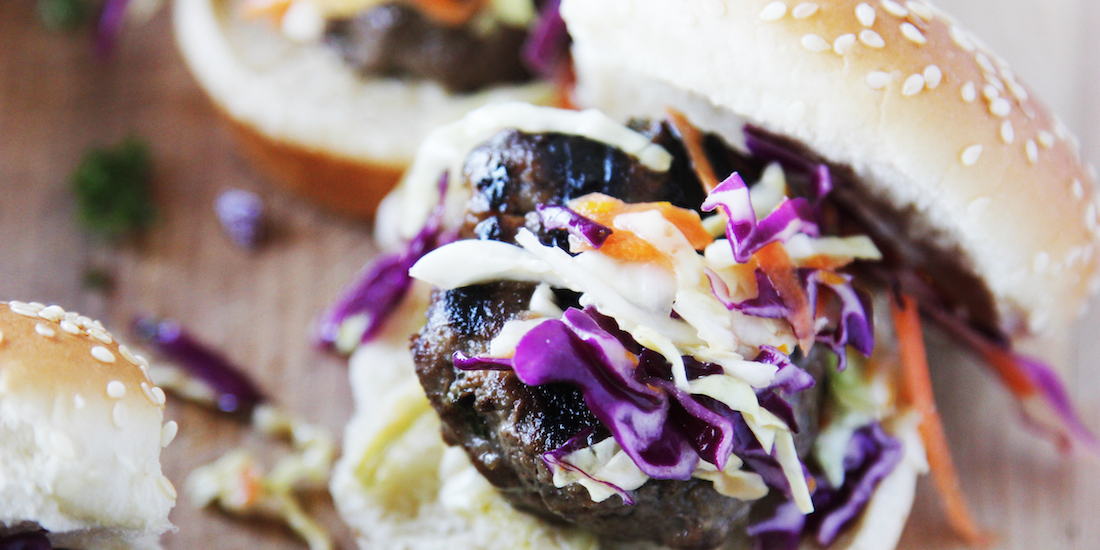 An irresistible combination of Angus Beef, Jamaican jerk spices, and coleslaw, these Jamaican Jerk Beef Sliders with Citrus Coleslaw are great appetizers for both family gatherings or as a main dish any time of the week.
Serves 8
Prep Time 10 minutes
Cook Time 50 minutes (30-minute rest time)
Recipe Courtesy of mamalatinatips.com
Ingredients
For the Patties:
1 lb. High River® Angus ground beef
1 tablespoon garlic salt
1/2 teaspoon ground allspice
1/2 teaspoon ground ginger
1/2 teaspoon paprika
1/2 teaspoon ground cinnamon
1/4 teaspoon ground nutmeg
1/4 teaspoon onion powder
1/4 teaspoon ground black pepper
3 fresh parsley sprigs, washed and finely chopped
1 tablespoon honey, agave syrup or any other sweetener
8 slider buns
For the Coleslaw:
1/4 purple cabbage
1/4 green cabbage
1 carrot, washed and peeled
1 tablespoon honey mustard
3 tablespoons orange juice
1 teaspoon orange zest
1 teaspoon olive oil
Salt and pepper to taste
Directions
Mix Angus ground beef, garlic salt, allspice, ginger, paprika, cinnamon, nutmeg, onion powder, pepper, parsley and honey.
Make 8 even balls. Place on a plate or in a glass bowl, cover with kitchen plastic and refrigerate for 30 minutes.
Wash and slice purple and white cabbage, shred carrot. Set aside.
Mix honey mustard with orange juice and orange zest. Slowly add olive oil and mix until well integrated. Add salt and pepper to taste.
Pour vinaigrette over the vegetables. Mix, refrigerate.
Heat up your grill or prepare a cast iron pan grill over medium-high heat.
Flatten the meatballs and grill 8 minutes one side, then 4 minutes on the other side, or until cooked through depending on your grill.
Heat up or grill the slider buns if you like. Add some mayo, add a cooked Jamaican jerk patty and top with the crunchy coleslaw.
Cooking Tip: Grilling is recommended for creating that distinctive char on the meat. When the temperature is right, use an outdoor grill; however, for quick grilling, a cast iron grill pan is your best friend.
Difficulty: Intermediate
Occasion: Everyday, Backyard BBQ, Entertaining, Tailgating