Rouladen-style Roast Beef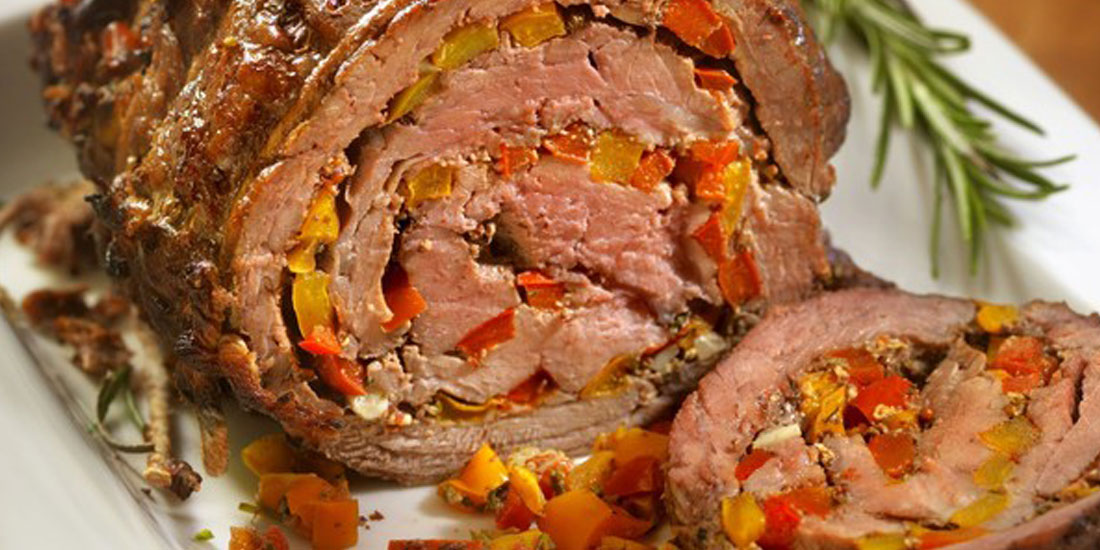 Inspired by Emily Richards @ERiscooking, this stuffed rolled roast is an easy way to take a budget roast like Eye of Round and turn it into something you'd be proud to serve to company. It's very lean so you may even consider wrapping it in bacon – who doesn't like bacon after all? Other options for filling: add asiago or Parmesan to the mixture, use pesto instead of mustard.
Serves 8-10
Prep Time 25 minutes
Cook Time 1 hour 30 minutes
Recipe Courtesy of Canada Beef
Ingredients
1 tbsp olive oil 1 EACH small red, yellow and orange sweet peppers, diced
6 cloves garlic, minced
1 tsp Herbs de Provence, crushed or dried thyme leaves (optional)
¼ cup minced Italian parsley
1 tbsp panko bread crumbs
2 tbsp goat cheese or shredded aged Cheddar (optional)
1 tsp Dijon or grainy mustard
Salt and pepper
1 Eye of Round Beef Roast, just over 2 lb (1 kg)
Directions
Heat oil in large non-stick skillet over medium heat and cook sweet peppers, garlic and herbs de Provence (if using) for 5 to 8 minutes or until softened and starting to brown. Remove from heat and stir in parsley; set aside.
Using a large chef's or carving knife, slice roast lengthwise stopping when you are about ½ inch from bottom of the roast. Open the roast up like a book and cut one side to 'unroll' the roast to be about ¾-inch thick piece of meat. Do the same with the other side so that you end up with a rectangular piece of meat that is about 3/4 inch thick. Using a meat mallet (tenderizer), pound the roast to about 1/2-inch thickness. Season all over with salt and pepper and spread with mustard. Spread with pepper mixture and dot or sprinkle bread crumbs and cheese (if using). Roll up, jelly roll style. Tie with kitchen twine at about 2 inch intervals. Season all over with salt and pepper.
Place roast on rack in shallow pan or lined baking tray; oven-sear in a preheated 450°F (230°C) oven for 10 minutes. Reduce heat to 275°F (140°C) and cook for about 1 hour and 30 minutes or until meat thermometer reaches 140°F (60°C) for medium-rare. Remove from oven; cover loosely and let stand 10 minutes before slicing.
Difficulty: Expert
Occasion: Entertaining, Holiday