Touch-Down Beef Burger with Grilled Onion and Toasty Bun
Touch-Down Beef Burger with Grilled Onion and Toasty Bun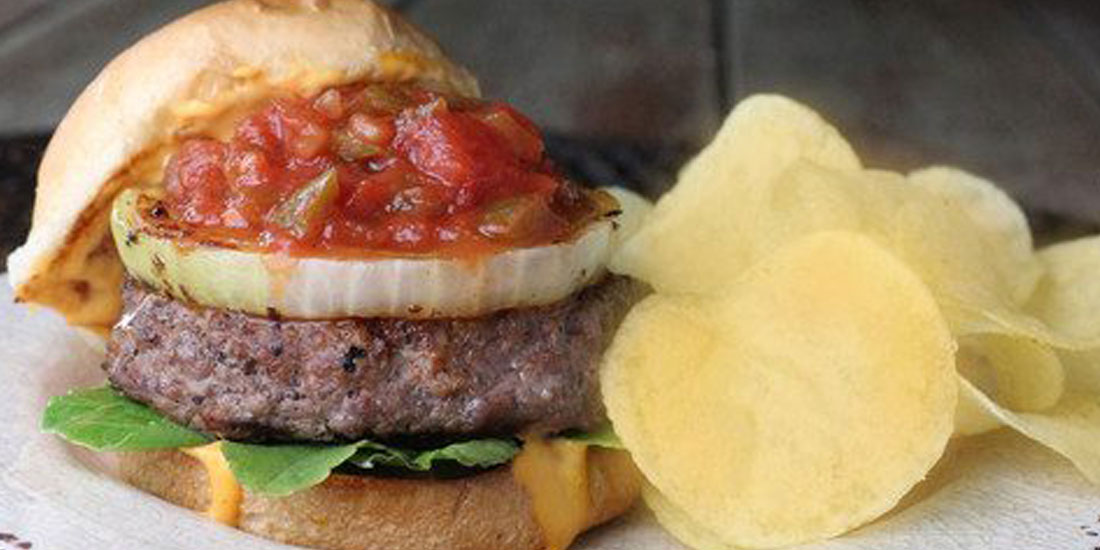 This burger says 'Olé' from the burger right through to the bun!
Serves 4
Prep Time 25 minutes
Cook Time 30 minutes
Recipe Courtesy of Canada Beef
Ingredients
1 tbsp. chili powder
¼ tsp salt
⅛ tsp freshly ground pepper
1 lb (500 g) Medium or Lean Ground Beef
1 egg
2 tbsp. panko-style bread crumbs
1 small onion, cut crosswise into 4 thick slices
4 burger buns
Salsa
Nacho-style cheese spread
Directions
Combine chili powder, salt and pepper in small bowl. In large bowl combine 2 tsp of the chili spice blend (reserving the remainder) with the ground beef, egg and bread crumbs. Gently shape into 4 patties, each 3/4-inch thick; make a slight indentation in the centre of each patty. Cover and refrigerate to chill.
Meanwhile, lightly spray onion slices with cooking spray; season all over with remaining spice blend. Thread a metal kabob skewer sideways through each onion slice.
Cook burgers and skewered onion slices on lightly oiled grill over medium heat 425°F (220°C). Cook burgers for 6 to 7 minutes per side, until digital instant read thermometer reads 160°F (71°C) when inserted sideways into each patty. Cook onion slices for 10 to 15 minutes, turning occasionally, until softened and browned.
Serve burger patty on lettuce tucked into a toasted bun that's been spread with nacho-style cheese spread. Top each patty with a grilled onion slice and a dollop of salsa.
Difficulty: Easy
Occasion: Everyday, Backyard BBQ, Entertaining, Tailgating